Mike was born outside of Buffalo, NY and from an early age showed a penchant for drawing and painting. When he was in 5th grade his family moved to Syracuse, NY where he began taking weekly art classes at The Everson Museum and began his focus on figure drawing. Three years later his family moved again to Detroit, MI where his high school art teacher introduced him to the latest painting techniques and materials. He then attended The Center for Creative Studies Art College in downtown Detroit where he majored in illustration and fine art.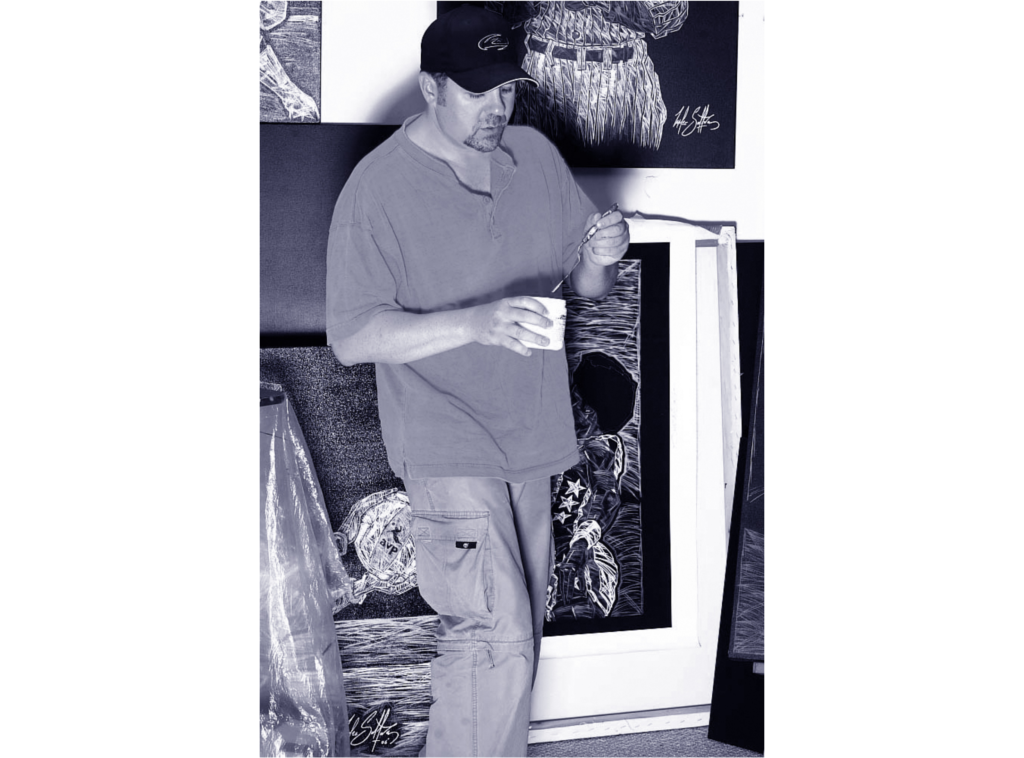 After college, he moved back east where he began creating graphics for the PC industry for such clients as IBM, Sony, NEC, and Ericsson. At the same time, he continued his painting as his style and technique continued to grow. He then moved to Manhattan in NYC and began working in the video game industry where he created graphics and animations for Nintendo/Sega/Sony games including The Simpsons, Home Alone, EA Sports, Star Trek and others.
While living in New York he continued painting and drawing as well as taking classes and workshops at the legendary Art Students League near Central Park. During this time his illustration work appeared in magazines and publications around the world. He later served as Art Director at the DMBB ad agency before moving to the west coast. In Southern California he refined his powerful style and began offering his paintings to collectors as well as executing commissions for art collectors, professional athletes, corporations and other special events.
Mike is The Official Artist of The BNP Paribas Open which takes place every March in Indian Wells, CA. His 20+ murals are on display throughout the Indian Wells Tennis Gardens and stadiums. They include Rafael Nadal, Roger Federer, Novak Djokovic, Maria Sharapova, Billie Jean King and other tennis players and legends. He is also The Official Artist of The Ronnie Lott IMPACT Trophy awarded annually at The Pacific Club in Newport Beach, CA to the best defensive player in college football.
His original paintings as well as his limited editions are featured in many venues and private collections around the world. He has served as The Official Artist of The Best Damn Sports Show Period (FOX) where his paintings of Chicago Bear RB Walter Payton, NBA legend Dr. J and others were featured on the permanent set. His original works have also been displayed on other TV broadcasts including shows on ABC, ESPN, Direct TV, HBO and FOX.
He is currently creating a series of original murals at major stadiums and venues that began with his first mural of Pat Tillman at ASU's Sun Devil Stadium in Tempe, AZ. Recent murals include one of Jackie Robinson at Jackie Robinson Stadium (UCLA Baseball), The Los Angeles Memorial Coliseum (USC Football), Notre Dame Stadium (Notre Dame Football), and DKR Memorial Stadium in Austin, TX. Upcoming murals include other top colleges, top high schools as well as several professional sports arenas and stadiums.
Collectors of his work include Ben Roethlisberger, Kevin Millar, John "Spider" Salley, Jim McMahon, Mack Brown, AC Green, Mark Sanchez, Carson Palmer, Tim Brown, Stephen Jones, Warren Moon as well as many other athletes, corporations, and art collectors. His artwork has also raised money for many charities and foundations including The Magic Johnson Foundation, The Pat Tillman Foundation, Miller Children's Hospital, Kurt Warner FTF Foundation and The Orangewood Pals/Hillview Acres Charity.
Mike is The Official Artist of the three Joe Namath Foundation "Legends Golf" Tournaments that take place in Bethpage, NY, Jupiter, FL, and Birmingham, AL.
His work continues to grow as he focuses on the human figure in sports and play, as well as other subjects created in his unique "chiseled" style of painting.